In case you have not heard but Google will be launching their Mobile Friendly Algorithm update on the 21st April. This is a big deal if you own or run a website. If you don't then I suspect you don't really care, if that's you then get your skis out and hit the slopes, here is a cool Ski holiday website.
If however you are interested how much the up and coming Mobile algorithm update from Google will affect websites here are the stats!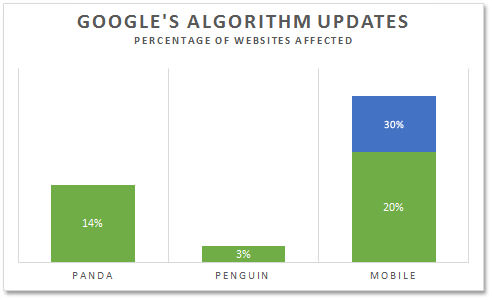 If you combine the two previous biggest algorithms launched by Google it would not add up to the conservative estimate figure of how many websites will be affected. So this is a BIG deal!
Google's Panda Algorithm update affected 14% of all websites
Google's Penguin Algorithm update affected 3% of all websites (which is a lot by the way!)
Google's Mobile Algorithm update is estimated to affect between 20 – 30% of all websites!! (yes double exclamation marks needed there!)
Don't hang around and get your website mobile friendly. If you are not sure if your website is mobile friendly or not heard over to our 'What is a Mobile Website' page and you can test yours!